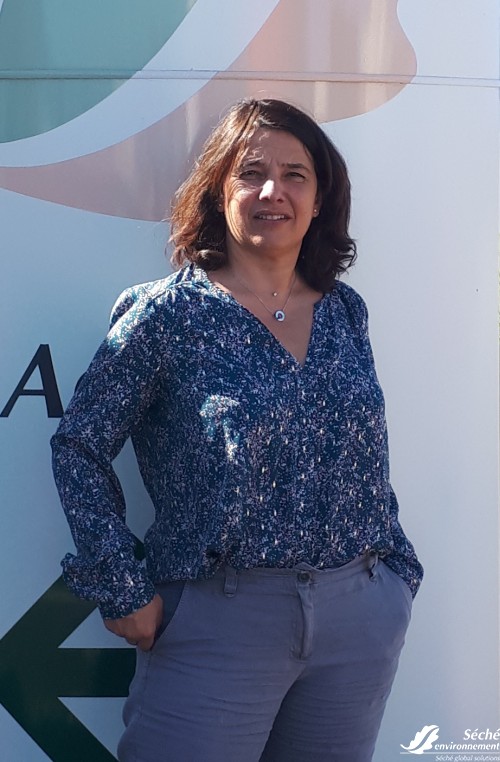 Valérie Coulato : Industry, a human adventure
08/03/2021
Valérie Coulato is director of the Speichim Processing site in Mourenx (Nouvelle Aquitaine), which carries out solvent regeneration as part of a circular economy approach. The secret of her career success can be summed up in two words: determination and perseverance.
What was your career before joining Séché Environnement?


Having graduated as a process engineer, I began working at the Pau incineration plant. I was then recruited by Béarn Environnement to provide operational supervision of the region's waste management contracts. At the same time, I coordinated the creation of the infectious clinical waste treatment site in Lescar. I joined Séché Environnement in 2001 following the acquisition of Alcor, of which Béarn was then a subsidiary.
What does your work involve now?


I took over management of the Speichim site in Mourenx in July 2020, when the previous director retired. My current job – and this is what has always fascinated me since my first internships as an engineer – involves being in contact with industrial facilities, but above all experiencing a human adventure on a daily basis.
What is your best professional memory?


We had to fight to keep the contract for the incineration plant in Pau. We were unsuccessful unfortunately, but I will always remember the competitive spirit, the moment when everyone came together and put all their energy into the project. Those are rare human adventures in a career. I had to mobilise the teams, inject them with energy, unite them... I was inspired by their commitment throughout the process. It was a difficult period but an intense human experience and I hope to enjoy similar professional experiences again!
Industry is a rather masculine sector – how do you find it?


It's fine for me, but not always for the men! When subjects become very technical, there is always a point where you need to prove you're competent and that, yes, you do know everything about the subject! These situations are even more common when you're young. Of course, winning respect from teams takes time… as it does for a man!
What advice would you give to a young woman starting out in this profession?


Industry is all about machines but above all, it is a human adventure. You need to be determined and persistent to get ahead and to seize opportunities that present themselves without hesitating.
What do people generally not know about you?


I love adventure! For the past few years, we have set off as a family on the Vélodyssée, which runs along the Atlantic coast from St Jean-de-Luz to Roscoff. We take the tents and just the basic essentials, as we have to tow the cart behind us which isn't always easy on a bike! But we have a wonderful time together. I like the change from everyday life. It lets me recharge my batteries and return to work in even better shape!
Going one step further
· Site de valorisation et traitement de produits chimiques et solvants Speichim Processing de Mourenx