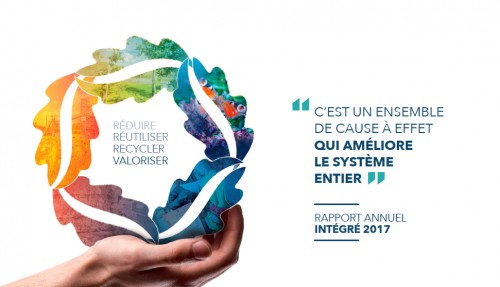 As a company that recycles waste, the circular economy is at the very heart of Séché Environnement's business.
Environmental consciousness is the corollary of exercising a profession with respect for humanity and nature.
Founded in 1985, the Group began incorporating the concept of sustainable development into its corporate policy from its inception and has supported all the strides made since the 1992 Earth Summit in Rio helped by regulatory changes which supported these initiatives.
Listening to our stakeholders is another key factor of the Group's development, in harmony not only with its employees, neighbors and customers but with the volunteer, educational and academic sectors.
From the viewpoint of some of its stakeholders, the Group's activities may be seen as sensitive. The policy of incorporating biodiversity into our business fosters social acceptance of our facilities. It improves management in the field (maintaining a nursery of endemic plant species combined with safeguarding the character of the landscape) and helps create a true corporate culture.
It is with this goal in mind that Séché Environnement, with its 2,500 employees worldwide, recycles whatever can be recycled into raw materials or failing that, recovers the energy they contain. In 2017, the Group was 219% energy self-sufficient, a level high enough to satisfy the electric power needs (excluding heating and hot water) of one million people.
These activities linked to waste recovery are constantly evolving and require innovation and investment in technologies that are becoming increasingly sophisticated.
Above all, it should not be forgotten that a fraction of this waste may be relatively hazardous and must be controlled and monitored, which is just another aspect of the Group's work. We decontaminate and process some of the most hazardous waste in existence and we recover sought-after metals or molecules such as bromine.
"An imaginary and an impractical scheme for building a society which, in the eyes of person who builds it, represents an ideal". That's the definition of utopia.
The circular economy resembles a utopia in the sense that it involves rebuilding an ideal company organization (or something like it) based on modified behaviors and rethinking of the organization's activities, for the common good of humanity, preserving resources for the future.
Waste is one of the major factors, after frugality, necessary for consumption. Waste is in the spotlight, it is part of the solution: it allows the loop to be closed.
With this in mind, today more than ever before, we are building our future business so that it may contribute to making the planet a pleasant environment in which to live. This is the task for our employees, in France and worldwide.
This entire adventure would not have been possible without all the men and women who contribute to it daily.
I would like to publicly acknowledge and thank them here.
Joël Séché
Chairman and Chief Executive Office
Access the CSR area